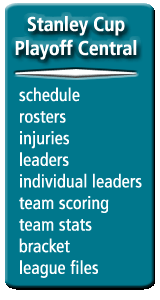 Canadiens Triumph
The Montreal Canadiens came out winners in a back-and-forth battle between the Panthers to win the closely fought series and advance to the Eastern Conference final. The teams traded goals in the first two periods. Mark Parrish's goal in the first period was answered by Montreal's Richard Zednik. In the second it was Magnus Arvedsson scoring for the Canadiens but lat in the period Steve Sullivan scored on the power play to tie the game up at 2. In the third period Marian Gaborik scored to give the Canadiens the lead again, but Martin St. Louis answered to retie the game. In the end it was the oft-maligned Jaromir Jagr who struggled all year who got the game winning goal, his 5th of the playoffs to lead Montreal into the next round, where they will face the Philadelphia Flyers.
Canucks, Avalanche Advance to Western Final
The upset train is at full steam as the 8th rannked Vancouver Canucks knocked off the number 3 Chicago Blackhawks with a 6-4 win Saturday night. The 6th ranked Avalanche also eliminated the 4th ranked Stars to set up a much unexpected Western Conference Final between the two underdogs.
First round results
Second round results
Flyers Win , 4-0

Canucks Win, 4-1

vs.

vs.

Canadiens Win, 4-3

Avalanche Win, 4-1

vs.

vs.