Rules
GMs
League Files
History

Rosters
Finances
Player Vitals
Prospects/Picks
Lines
Coaches
Injury Report

Standings
Today's Games
Full Schedule
League Leaders
Ind. Leaders
Team Scoring
Team Stats
XtraStats

Affiliates
Today's Games
Schedule
Standings
Rosters
Team Scoring
League Leaders
Ind. Leaders
Team Stats
Transactions

ECHL Standings
ECHL Leaders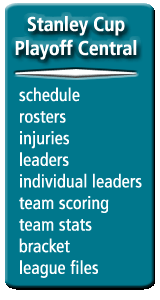 Avalanche Advance
The prospects of a Nielson vs. Nielson looked gooed very early in Game 7 of the Western Conference finals when Markus Naslund scored only 20 seconds into the game. But in the second period Eric Lindros finally broke out of his playoff slump with his first goal of the postseason. The 1-1 tie was broken in the third by Radek Bonk's 6th goal of the playoffs. That made the score 2-1 and that was how it ended. Colorado moves on to face Montreal in the Stanley Cup Finals.
Habs Advance, Win Three-Overtime Thiller
What was one of the TFNHL's greatest postseason series ever came to an amazing climax, a three-overtime game that was pulled out by Montreal on Marian Gaborik's power-play goal early in the third extra period. The Canadiens had a 3-0 lead in the series, but frittered it away as the Flyers came roaring back to tied it up and force a game 7. And in an amazingly fitting way, Game 7 itself went much the same way with the Canadiens taking a 3-0 lead before the midway part of the game. But the Flyers came roaring back with two goals of their own later in the second period, and tied it up at 3-3 on Glen Murray's second goal of the game with 2:55 left. The refs were calling the game straight, handing out 4 penalties in the first two overtimes. But in the third it was the Whistle Heard Round the world when the Habs' Jaromir Jagr broke through and was hooked from behind by Alex Tanguay. The play saved a probable breakaway but the refs made the call and the Canadiens would go on the power play. The raucous Philadelphia crowd was furious with the call and play had to be stopped for the ice to be cleared of debris and cheesesteak wrappers that had been thrown on to the surface in protest. The Canadiens were 2-for-5 on the power play in the game and with 21 seconds left on the penalty, Marian Gaborik got hold of a great feed from Saku Koivu out of the corner and slapped it past Lalime for the win. The Canadiens advance to the Stanley Cup Finals for the second straight year.
Conference Finals

Canadiens Win, 4-3

Avalanche Win, 4-3

vs.

vs.